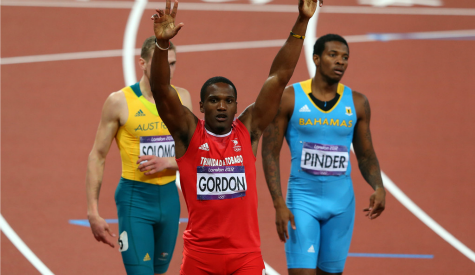 Something special.
That phrase seems to sum up former Trinidad and Tobago track star Ato Boldon's impression of Lalonde Gordon's Olympic bronze medal run yesterday in the 400-metre final, which produced T&T's first medal at London 2012.
Gordon and his namesake Jehue competed in the 400m and 400m hurdles events championship races, respectively, and Boldon, a former T&T double Olympic silver medallist, said he had expected a medal in one of those events.
"I went to the track [yesterday] really feeling like between Jehue and Lalonde there is no way that we weren't going to get at least one medal," Boldon told CCN TV6 last night. "So I was extremely thrilled to see Lalonde come through and finally win us a medal in that event. We haven't won one since Wendell Mottley [won silver] way back in 1964."
Boldon also said he was "excited" to see T&T earn a medal in the quarter-mile event and hopes it will inspire other Trinidad and Tobago athletes to excel over 400 metres.
"For me, this is a very exciting thing Lalonde has done," Boldon noted. "He's put himself right now [in a position] to really take this event forward. It has kind of stagnated quite honestly in Trinidad and Tobago, with the exception being Renny Quow.
"With this young man and what he's done today, I think we can really look at getting past the Ian Morris record of 44.21."
Boldon was not all pleased with T&T's showings on the track, though.
"I have been impressed in some areas and disappointed in some areas," the ex-T&T sprinter revealed. "I felt like those 100-metre guys were going to get further than they did, in particular Keston Bledman. But that's the way it goes sometimes.
"Keston…he has to pay his dues and figure out how to get to that next level in terms of a championship. It's one thing to win an invitational race."
Boldon said he was "extremely proud" of swimmer George Bovell, who finished seventh in the Men's 50m freestyle event last week, and cyclist Njisane Phillip, who in his first Olympics finished just outside the sprint medals in fourth.
And Boldon is predicting more precious metal for T&T.
"Into these Olympic Games I've been very vocal in saying I thought the men's and women's' 4x100 are our best chances of medals," he said referring to the relay squads. "That still exists, we have that extra one in the bag now, and I'm extremely thrilled that the streak (of T&T medaling since 1996) is (still) going."
Boldon added: "It's very important to keep the streak going and now that we've gotten that [first medal] out of the way, it would be nice to pick up one or two more. We've never come home with more than two medals, so I would like to see us come home with three. That would be great."
By Kern De Freitas
Source: www.trinidadexpress.com