Kirani James became a history man tonight – although he is still a teenager.

The 19-year-old from Grenada (pictured top) became the second youngest ever winner of the Olympic 400 metres title as he ended a sequence of seven victories in this event by runners from the United States.

That sequence was always going to come to an end, of course, given that, for the first time ever in a non-boycotted Games, the US did not have a single representative in the final which was won in such emphatic fashion in 1996 and 2000 by the American who still holds the world record of 43.18sec, Michael Johnson.

But even the great Johnson got a small chip taken out of him by James, as his winning time of 43.98sec – the first time a non-US teenager had beaten 44 seconds – eclipsed the world champion's UK all-comers record.

"It just shows I'm on the right track," said James, after a race which saw silver go to fellow 19-year-old Luguelin Santos – who, less than an hour earlier, had been uplifted by seeing his 35-year-old  Dominican Republic team-mate Felix Sanchez reclaim the 400m hurdles title he won at the Athens 2004 Games.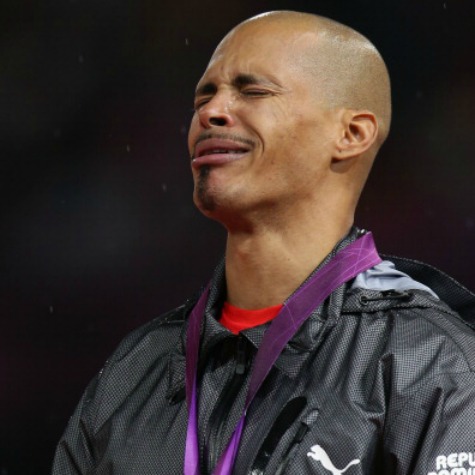 Santos, who clocked 44.46, was followed home by Lalonde Gordon of Trinidad and Tobago, who recorded a personal best of 44.52 to complete a clean sweep for the smaller nations.

Grenada's population is a mere 110,000 – and James, who comes from a small fishing village, happily predicted that a good number of them might now be celebrating a victory which came a year after his startling defeat of the 2008 Olympic champion, LaShawn Merritt, to win the world title in Daegu.

"It's a huge step for my country in terms of stepping up to the plate in track and field," said James.

"This victory is putting us on the map.

"There is probably a huge street party going on right now."

There may also be a few celebrations taking place in Sunderland, where Kirani has been training in preparation for the Games in facilities organised by Britain's former world mile record holder and world 1500m champion, Steve Cram.

Merritt, who returned in 2011 from a two-year doping ban, had secured his right to run at these Games by overturning the International Olympic Committee (IOC) ruling against doping offenders competing at the next Games.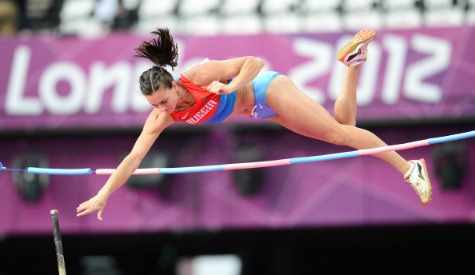 However, he pulled up in the heats here with an injured hamstring.

For Sanchez, who had won 43 consecutive 400m hurdles races as he secured two world titles before claiming the 2004 Olympic crown, the effort ended in tears – a bucketful of tears, on top of the podium, after recording a time of 47.63 that matched his winning Olympic effort eight years earlier.

He revealed afterwards that he had had the word "grandmother" written on his spikes in memory of the relative who had died during Beijing 2008 and to whom he had pledged another Olympic medal.

"When I was on the podium I felt the rain falling on me like my grandmother's tears," he said poetically.

Britain's team captain and world champion Dai Greene, who had been nonplussed after only managing to qualify for the final as a fastest loser, put everything into an effort which eventually saw him finish just one place off the podium in 48.24.

Michael Tinsley of the US took silver in a personal best of 47.91, with Puerto Rico's strong favourite, Javier Culson, only managing third place in 48.10.

Sanchez is one of two athletes to have known what it feels like to be unbeatable and who were seeking to reclaim Olympic glories here.

The other was Russia's Yelena Isinbayeva, whose quest to become the first woman in Olympic history to win three straight titles in any event ultimately ended with bronze in the pole vault competition.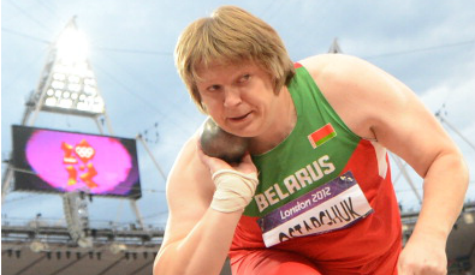 Jennifer Suhr of the US took gold on countback ahead of Cuba's Yarisley Silva after both had cleared 4.75 metres.

Britain's Holly Bleasdale, who has already recorded the third best indoor mark of the season with 4.87m, failed to progress beyond 4.45m and finished equal sixth.

"The weather wasn't bad," said Isinbayeva, who revealed she had suffered a muscle tear in May which had severely limited her preparations for London.

"It was terrible." 

Yuliya Zaripova of Russia earned gold in the women's 3,000m steeplechase in a personal best of 9min 06.72sec, with Tunisia's Habiba Ghribi taking silver in a national record of 9:08.37 ahead of Ethiopia's Sofia Assefa who clocked 9:09.84.

In the shot put final, Nadzeya Ostapchuk earned an emphatic victory over Valerie Adams, the New Zealander who had beaten her at the previous year's World Championships, producing four throws of over 21 metres, the best of which was 21.36.

Adams took silver with 20.70 ahead of Russia's Evgeniia Kolodko who recorded a personal best of 20.48.
By Mike Rowbottom at the Olympic Stadium in London
Source: www.insidethegames.biz