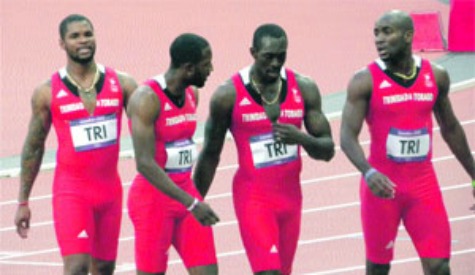 With tears rolling down her cheeks, Kelly-Ann Baptiste lamented her cruel fate.
For the third time in as many Olympic Games, a baton bungle ended Trinidad and Tobago's women's 4x100 metres campaign. On each occasion, Baptiste was part of the team.
"I can't explain it," she told the Express. "It's hard, because we all trained really good and wanted to come out here and have a good performance. To feel like you've done all you could in practice, and to train so hard and to come up short is just disappointing."
Michelle-Lee Ahye ran the leadoff leg for T&T in yesterday's final, at the Olympic Stadium, here in London, England. At the changeover, Baptiste reached for the baton, and reached again, but the exchange was never completed, and the country's hopes of a first-ever Olympic medal in a women's event were dashed.
"I don't have anything to say," said Baptiste. "We didn't make the handoff. I really couldn't tell you (what went wrong). I just didn't get the stick. "I can't question God," she continued, "so I'm just going to keep my head up and keep pushing."
Third leg runner Kai Selvon and anchorwoman Semoy Hackett watched on in agony, powerless to change T&T's fate.
United States struck gold, obliterating the world record in the process. Tianna Madison, 200m gold medallist Allyson Felix, Bianca Knight and Carmelita Jeter got the baton round the track in a jaw-dropping 40.82 seconds, slicing more than half a second off the 41.37 standard, established way back in 1985 by East Germany.
Jamaica picked up silver in a national record time of 41.41 seconds, while bronze went to Ukraine in 42.04—also a new national standard.
At four o'clock this afternoon (T&T time), Richard Thompson, Marc Burns, Emmanuel Callender and Keston Bledman will bid for honours in the men's 4x100m final.
In the qualifying round, yesterday, the T&T quartet finished third in heat two in 38.10 seconds to secure an automatic berth in the championship race. United States produced a new national record, 37.38 seconds, to win the race, beating Japan (38.07) into second spot. Jamaica topped heat one in 37.39 seconds.
Thompson ran the leadoff leg for T&T, yesterday, handing the baton to Burns. Callender had third leg responsibilities, and Bledman anchored. The same quartet earned silver for T&T at the 2008 Beijing Olympics. Four years ago, however, Bledman led off and Thompson anchored.
"We all have faith in the leg that we're running," Thompson told the Express, "and we believe this is the best order for us to win a medal. We know our chances are strong, so we just have to execute properly. I feel like the execution could have been a little better , so as long as everything is cleaned up tomorrow (today), there's no doubt in my mind that we could win a medal.
"With a relay, anything can go wrong, anything is possible, so it was just about getting the stick around. We thank God we were able to do that, and have a berth into the final."
Burns said he is pleased to be in the medal race.
"We made it to the next round, and that's all that matters. Each of us know what's at stake and the adjustments we need to make for the final. But we'll be okay."
Callender is confident of earning a second Olympic sprint relay medal.
"One hundred per cent. In all things, just having faith in God, anything is possible."
Bledman had some work to do on the home straight, yesterday, to ensure T&T claimed one of the three automatic qualifying berths up for grabs in heat two. "This is the first time we ever tried this order, but we trust in the team and trust in God. Tomorrow (today) is a different day. We're going to go out even tougher."
T&T have been drawn way out in lane nine for today's championship race. Defending champions Jamaica will run in lane six, next to United States, in seven.
Keshorn Walcott will be at the Olympic Stadium today, for the 2.20 p.m. (T&T time) men's javelin final. When he takes his first throw in the competition, the 19-year-old will become the first male field athlete from T&T to compete in an Olympic final.
By Kwame Laurence
Source: www.trinidadexpress.com