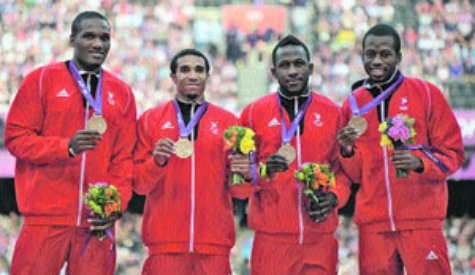 Sport Minister Anil Roberts described yesterday as the country's "most successful day in our Olympic history".
In a press statement issued by the Sports Company of T&T, Roberts was described as "uncharacteristically lost for words" following yesterday's historic events.
"Today, August 11, 2012 is a day that will be forever etched in my memory. Today is Trinidad and Tobago's most successful day in our Olympic history, and we have many fantastic achievements of which we can boast. This bronze medal following our gold in the javelin event was a most fitting way to end the Olympics, which I'm sure was followed closely by all 1.3 million supporters," he said.
"As a minister, coach and citizen of Trinidad and Tobago, my heart is swollen with pride, honour and complete joy that these great athletes have all brought to our country on our golden anniversary of Independence. The men and women of the 2012 Olympic team are national heroes in their own right. Once again, Trinidad and Tobago has shown the world what we are made of."
Yesterday, the Sport Company applauded Trinidad and Tobago's "Fantastic Four" for their bronze medal.
"In the final event of the 2012 Summer Olympics, the men's 4x100m relay team sprinted their way into the history books and secured Trinidad and Tobago's third bronze medal of the games.
"The quartet's stellar performance also meant a fourth overall medal in London, making this year's Olympic Games the most successful of any Trinidad and Tobago delegation. As a result, Trinidad and Tobago now ranks as the country with the third highest number of medals per capita.
"The Beijing 2008 silver medallists were led by Keston Bledman, followed by strong second and third legs from Marc Burns and Emmanuel Callender. Richard "Torpedo" Thompson ran a crucial anchor leg, crossing the finish line in 38.12 secs," the release stated.
"Up against some of the fastest men in history, including fellow Caricom powerhouse Jamaica, the Trinidad and Tobago team held their own and, with an unparalleled drive and determination, secured this twin-island's last medal of the Games.
"In what can be described as a race of redemption following a close qualifying round, the Fantastic Four showed true grit and athletic excellence to complete the race, despite a slight error in the final baton change," it said.
Source: www.trinidadexpress.com