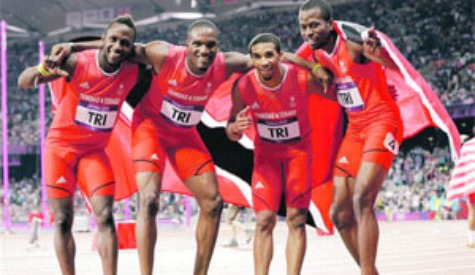 I recently had yet another discussion about the reasoning and/or necessity to reward our 2012 Olympic gold medalist and figured that perhaps some insight is needed to help balance some of the somewhat one-sided perspectives that exist with regard to sport in this country. Some find it unnecessary, others find it a waste of our resources, to reward our Olympic heroes. However I disagree with this opinion completely. While there are a great many forms of entertainment in today's world, the historical greatness and spirit of The Olympics should not be underestimated. The rewards that our athletes receive, is quite in keeping with the traditional presence of The Olympic Games. These London Olympic medals were the largest medals of any Summer Olympics Games in history, weighing 400g  of sterling silver and copper, with 6g of 24 karat gold plating. The medal, today, is worth $624. Some ask the question of excessiveness but what part of the entertainment industry, whether it be the movie-making business, music, or sports, does not all exist in a world of excessiveness?
However, sticking to this topic of rewarding Olympic Heroes, did you know, for the 2012 London Olympics:
Singapore awarded $800,000 to gold medalists.
Georgia awarded $706,000 (gold medalists).
The United States Olympics Committee awarded $25,000 for winning the gold medal, $15,000 for the silver medal, $10,000 for the bronze.
Ghana awarded $20,000 (gold medalists).
In the days of Ancient Greece, as is the case today, cash prizes were not awarded to Olympic athletes as part of the tournament, however, it was upon return home where their gifts of fame and fortune awaited. In Greece, tax exemptions, money, front-row seats to the theatre (perks afforded to personalities and positions of note) and lifetime free meals in their civic building were awarded their Olympic winners. What we afforded our London Olympic gold medalist, Keshorn Walcott, was along these same lines.
Our latest gold medal Olympian, the first in 36 years, and first ever from the western hemisphere in this particular event, was awarded  $1,000,000, 20,000 square feet of land in his hometown area, Toco, a luxury home, a Housing Development Corporation project also to be done in Toco and the naming of a lighthouse and Caribbean Airlines plane after him. He was also awarded and accepted a scholarship to the University of T&T which would make it appear that we are taking steps towards realising the goal of home growing our own elite athletes, as has been happening in Jamaica for a long time now, rather than relying on the training of other nations to realise the potential of our own athletes. The two relay team bronze-medalists were awarded $300,000 each. Perhaps hindsight is always 20/20 but in 2012, George Bovell III was finally honoured for his 2004 bronze medal Olympic performance with $300,000 and the revival of the promise to build a National Aquatic Centre in his name. Aside from our Olympic medalists, direct cash rewards were not given. Rather, the remaining Olympic representatives received medals of Honor.
In comparison, in a report done on CVM TV, a Jamaican television network stated that millions of dollars will be awarded to the Jamaican Olympians by their government. Gold medalists will receive US$10,000, silver medalists to receive US$6,000 and the bronze medalists will receive US$4,500. Also stated was that other payments will be made to Olympic finalists, all the way to the seventh place finalist, while every Jamaican athlete who made the team to represent their country, will each receive a payment of US$2,000. So, my point is, the value of our Olympic athletes, in our society must be carefully placed. Currently, there are no standards for the recognition of our Olympic athletes; however, the last few weeks certainly imply that we may see the development of one in the not-too-distant future. I certainly hope there will be one. There is always a greater sense of control and objectivity when things are done in a pro-active, structured fashion. The more structures there are the more pathways we will be creating for our youngsters and the way they perceive their future.
By: Asha De Freitas-Moseley
Source: www.guardian.co.tt