The Trinidad and Tobago International Marathon was again used to drum up support for the country's Olympic preparations.
Since 2015, the Trinidad and Tobago Olympic Committee (TTOC) has promoted its #10Golds24 athlete welfare and preparation fund alongside the race.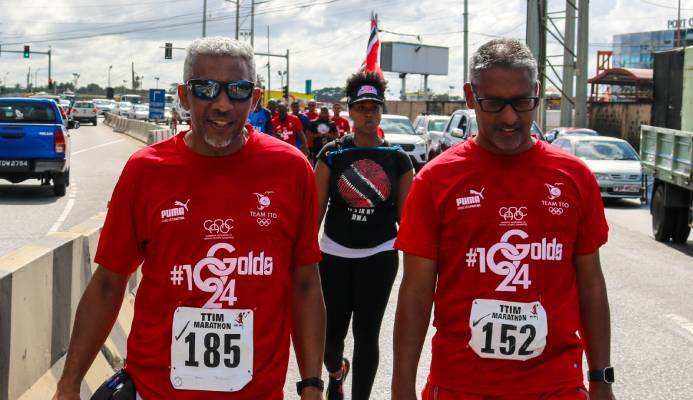 This is working towards the target of winning 10 or more Olympic gold medals by Paris 2024.
Cash raised through the fund will pay for the preparations of athletes, with the project more significant this year as Tokyo 2020 approaches.
Around 1,000 people competed in three races as part of the marathon festival, and either ran or walked the route.
The course travelled from St Mary's Junction in Freeport to Whitehall in Queen's Park West.
TTOC President Brian Lewis was among a 100-strong fundraising group who completed the route in a #10Golds24 t-shirt.
Kenya's Mexico-based runner Stephen Njoroge won the men's race for the third time in 2 hours 34min 30sec.
Hellen Mugo, also of Kenya, won the women's race in 2:51.05.
Two teams from the Trinidad and Tobago Coastguard completed a "military challenge" where each member carried a 20-pound backpack.
"The marathon is a testament to the power of sport and community," TTOC said.
"All along the route encouragement was easy to come by, stronger racers stopped to spur on those who were struggling and clusters of runners and walkers spurred their peers on to the finish line."