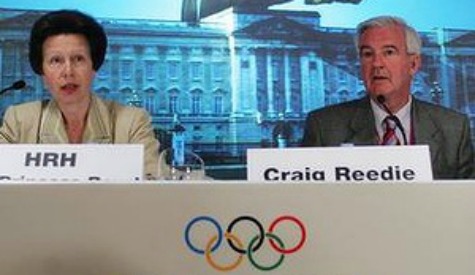 The founding father of the 2012 Olympics helped Tony Blair schmooze London its ticket to host the Games and saw the war in Iraq nearly bring it all down in flames.

Sir Craig Reedie recounts the phone call like it was yesterday. It took place in May 2003, less than two months after bombs had begun falling on Baghdad and George W Bush and Tony Blair set about de-throning Saddam Hussein.

On the other end of the line was Tessa Jowell, Britain's then Secretary of State for Culture, Media and Sport, and what she told Reedie was not exactly what he wanted to hear. Jowell was tasked with securing cabinet approval for a London entry in the 2012 Olympic Games race but with the nation's focus squarely on combat in the Gulf, she was struggling to get the topic on the agenda for the following day's cabinet meeting. By this time the coalition forces had taken the Iraqi capital - Saddam was not yet captured - but debate was already raging about the legitimacy of the invasion and its political and geopolitical implications.

Amidst that backdrop Reedie, the chairman of the British Olympic Association (BOA), had reached the breaking point in the already long and hard-fought haul to get a government-backed Olympic bid up and running. Rivals such as Paris, Madrid, New York and Moscow were already well and truly committed to the battle for the 2012 hosting rights and with six months until the first paperwork from bidding cities was due to be filed with the International Olympic Committee (IOC) - and only two years until a decision would be made - Reedie felt too much time had already been lost.

"The night before the cabinet meeting that approved the bid, Tessa Jowell told me 'I'm not sure it will get done tomorrow, it's quite a big agenda'. And I said 'Well, I'm sorry Tessa, how long?"' Reedie tells Fairfax.

"She said: 'Well, next week is a holiday, it might take another month'. I said 'This is not in any way a threat, but if you can't do it tomorrow I'm going to have to pull the plug because we simply will not have enough time'."

While London's mayor Ken Livingstone had already signed on, the war in Iraq was at the point of steering a London bid fatally off course. "You remember this was the major political issue of the time," Reedie says. "To turn away from the political effects of that and deal with something relatively modest like an Olympic bid involved a little bit of encouragement from the appropriate government department. But Tessa was terrific."

I meet Reedie in the foyer of the East India Club, a 160-year-old members-only and gentlemen-only club at St James's Square, a stone's throw from Pall Mall, Piccadilly and the rest of the Monopoly board. Wellington, I'm told, had his celebrated Waterloo Dispatch presented to the Prince Regent - later to become George IV - in this very house. A magnet for the aristocratic and the elite ever since, London's history is embedded on its walls and in its furniture.

Reedie, however, is not here to sip whisky and soak up the social status. In the hours before we sit down in the club's Rugby Room, the 71-year-old Scot has been with Sebastian Coe, the London 2012 chairman, having a final tour of the Olympic Park before the Games commence on July 27. It was an emotional occasion, he admits.

"I first saw the place on a wet November afternoon pissing with rain in a disused greyhound stadium at Hackney," Reedie says. "I looked around and thought 'Gee, you really need some imagination to work out how this is going to work'.

"We stopped and had a couple of photographs from the driver. We both know how this was done - we both know the effort that's gone into it. It was a good moment."

A former international badminton player and administrator Reedie is the original visionary behind the Olympics' return to London for the first time since 1948. He has the knighthood to show for it. A survivor of failed bids with Manchester (twice) and Birmingham it was he, as the BOA chairman, that conceived the idea of another London Games inside the organisation's modest former office at Wandsworth.

The starting line for the London Olympics can be traced right back to January 1994 - more than 11 years before the city would be granted hosting rights - when Reedie called a meeting during the Winter Olympics in Lillehammer to research why Britain's regional cities could not mount successful bids. It would not be long before he had an answer. Juan Antonio Samaranch, the IOC president who had famously announced the good news to Sydney in 1993, told him squarely that they were only interested in London. "At the time when we were asking I don't think he said it publicly," says Reedie, who had convinced Samaranch to introduce badminton, thus winning over the Far East, to the Olympics in 1992. "But he certainly said it to me."

Unlike those earlier defeated British bids London's drive to win the Olympics was given life by the national Olympic committee, not the city itself. In its earliest days, in the late nineties, that amounted to three men: Reedie, the BOA chief executive Simon Clegg - an ex-paratrooper who now runs Ipswich Town football club - and a young media liaison officer named Philip Pope, who is now public affairs manager with Cricket Australia.

In 1997 Reedie hired a 31-year-old hockey goalkeeper called David Luckes to pen a report into the feasibility of a London Games, paying him expenses rather than wages because the BOA could not afford them and setting him up with a makeshift desk in a corridor because there was no office for him.

Following Britain's disastrous showing in Atlanta the year before - rowers Steve Redgrave and Matthew Pinsent had won their only gold medal - the Olympics was not exactly in vogue.

"Having decided we would bid again, one of the big issues was how we improve British sport," Reedie recalls. "The first really significant bit of assistance was we managed to change the lottery distribution rules. The lottery money used to go only to capital projects and after Atlanta it went to revenue projects as well so you could actually pay athletes as opposed to building swimming pools."

In 2000 Britain won 11 gold, and 28 medals in total, with the telecast of those images on the BBC a public-relations dream for the Reedie team's burgeoning bid. "Along came all these wonderfully articulate and nice people winning Olympic medals in sunshine and the joys of Sydney," he says. "That was a really good story. It helped enormously."

As Reedie led IOC voting members up to Blair's suite at the Stamford Hotel in Singapore, he hardly had time to digest the gravity of the meetings that he had set up and were about to take place. Along with bid chairman Lord Coe and chief executive Keith Mills, Reedie and the Prime Minister had been the central players in the arduous and delicate lobbying process that was reaching its climax.

As IOC members gathered at the nearby Raffles Hotel for the vote in July 2005, and with Paris favourite to win the 2012 Games, Reedie orchestrated a last-minute charm offensive by the master schmoozer Blair and his wife Cherie, even handing the Prime Minister specific briefing notes as he brought each member to his room.

"We didn't have all that much time to be tense, we had an awful lot to do," says Reedie, who will stand for the IOC vice-presidency next week. "We were lucky in that the Prime Minister gave us about two-and-a-half days. We selected a number of members to have private meetings with him.

"He was terrific. That played strongly to Blair's skills. He was a wonderful communicator. He was one of those politicians that when he was talking to you for that 30 seconds or two minutes you were the only person in the universe."

Blair had to leave Singapore before the day of the vote, but Reedie was front and centre in London's presentation, even speaking the Olympics' other official language, French, for a portion of his speech.

The lips of Jacques Rogge, the IOC president, delivered the victory he had been waiting more than a decade to revel in, but for Reedie, the real celebration is about to start. You will probably find him at the badminton.
-Chris Barrett
www.smh.com.au