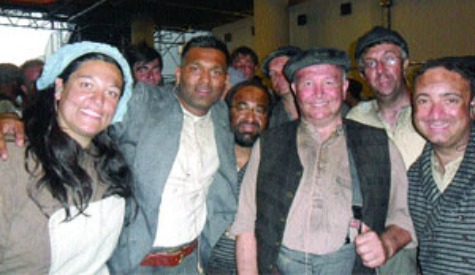 When the ceremony that officially signals the opening of the 2012 London Summer Olympic Games gets underway today, there will be one Trinidadian among the thousands of athletes, perfor- mers and spectators who will be living his own Olympic dream.

Born in Ghandi Village, Debe, Jimmy Badal is one of the 10,000 performers who will bring to life director Danny Boyle's £27 million production, "Mass Movement", to billions of viewers worldwide.

Badal, who currently lives in England, says it's a dream come true.

"After viewing the Barcelona Games in 1992 as a little boy, I said to myself: one day, I would represent my country at the Olympics, so when they advertised for volunteers for London's opening ceremony, I jumped at the opportunity.

I was interviewed two years ago, and after lots of tough auditions, I was successful in gaining a role for the opening performance."

Badal said being accepted as a volunteer was the easy part.

What followed was six months of a difficult journey to be ready for the opening ceremony.

"I have had to devote hundreds of hours to training and rehearsals since it started last year and had to work with volunteers from over 75 countries, as well as training managers from all around the globe.

"Initially, we began training at Dagenham in East London, which is quite a distance from the Olympic Park. In the weeks and months that followed, we began working with the cast, props, teams and five thousand volunteers, moving at the same time.

"It was here we got all our instruction from creative director Danny Boyle, and it was here that the picture started to come together in our minds," he told the Express.

Badal credits his mother and his love for sports for his willingness to do volunteer work at any level.

"My mum has been a huge inspiration in my life. She taught me how important it is to always give back to the village, the community and the less fortunate. She is a strong woman, and I learned most of my values from her.

"Additionally, having a passion for sports led to me serving as a volunteer when Trinidad hosted the FIFA Under-17 World Cup in 2001. I gained a lot of experience, he said."

Badal could not share much about his role since they were sworn to secrecy, however, he will feature in the opening segment, which is a drama- tic tale of the Industrial Revolution's working men and women.

His section highlights the transformation from agriculture to industry in England and features 70 sheep, 12 horses, ten chickens, three cows, two goats, dogs and geese.

Additionally, traditional countryside cottages will stand together with a mining wheel, harking back to the country's proud industrial heritage, all drenched in faked pouring rain to reflect Britain's typical weather.

The show, called the "Isle of Wonder", is inspired by Shakespeare's The Tempest and will entail one thousand drummers, video clips of the Duke and Duchess of Cambridge, with the sound of Queen's "Bohemian Rhapsody" resonating in the background.

"My dedication and perseverance of attending the final rehearsals will pay off (today) when I perform for Her Majesty Queen Elizabeth II, more than one hundred heads of state, one hundred and fifty IOC members and billions of viewers around the world.

"At this time in my life, I am truly proud to be a Trinidadian and to be representing my country as a volunteer at the opening ceremony of the Olympic Games," he said.

"Who would have thought that a man from Debe in Trinidad would be performing to the biggest global audience in recent years? But twenty years after the Barcelona Olympics' opening ceremony, my dream finally comes true."

—Editor's Note: Danny Boyle is noted for directing the movie Slumdog Millionaire.
-Donstan Bonn
Source: www.trinidadexpress.com