Young national cycling sensations, Nicholas Paul and Teneil Campbell, are encouraging young, up and coming athletes to work hard to achieve their goals and to never give up on their dreams.
Paul and Campbell were recognised last month at the Trinidad and Tobago Olympic Committee's (TTOC) 25th Annual Awards Gala, held at the Hyatt Regency, Port-of-Spain, where they copped the Senior Sportsman of the Year and Senior Sportswoman of the Year awards, respectively. Paul, 21, also walked away with the TTOC's Peo­ple's Choice Award.
2019 was a special year for the youngsters who made quite a name for themselves on the world's cycling track.
In March, Paul climbed to fourth in the world on the International Cycling Union's Men's Sprint standings and in September he set a flying 200m world record of 9.100 seconds at the Elite Pan American Track Cycling Championships, in Bolivia.
"The advice that I have for young athletes is to just keep working hard, day in, day out, and most of all keep focus. To become a successful athlete, you need to be dedicated to your sport 100 percent, set goals for yourself and work hard towards them. Never give up on your dreams" he stated, in an interview.
Campbell, 22, who echoed similar sentiments, is not only this country's first fe­male cy­clist to qual­i­fy for an Olympic Games, but in 2018, she also became the first female Double Caribbean Women's Road Champion, the first female CAC Gold Medal cyclist, and the first cy­clist to re­ceive the Hum­ming­bird Medal (Sil­ver).
"It is very important to have a clear vision. Create a support network, personally and professionally, then go after your dream and your passion with great tenacity. Allow no one and nothing to stop you from achieving your goals.

"I believe in the Thomas Jefferson quote, "Nothing on earth can help the man with the wrong mental attitude." All it takes is for you to believe in yourself and your capabilities. Support from your family and trusting God's timing are key to remaining focused toward the end goal. The process is challenging and when you reach close to, or get to the top, don't expect it to be a bed of roses. It becomes even more difficult as you continue to grow and prosper to new levels. Associate yourself with positive and supportive people. Enjoy your journey, stay true to yourself, be humble and always be grateful."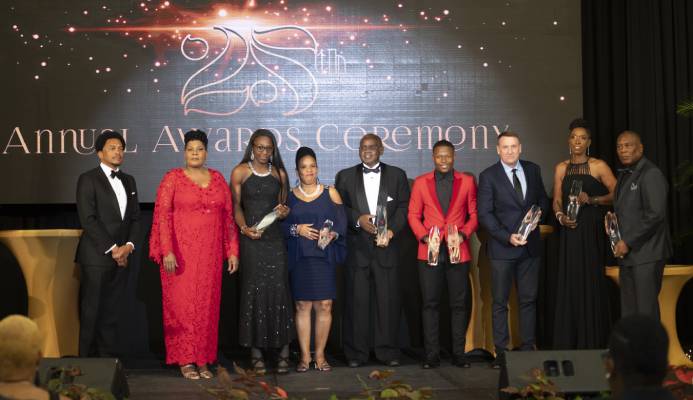 In delivering the evening's feature address, national rugby player, Kwanieze John, shared that the life of an athlete isn't always glamorous. "It was a distinct honor to share my journey to the Pan Am Games overcoming what's usually a career ending injury. Although it took almost a decade to recover, I was not dismayed by the lack of support there was then. The key messages I hope to drive home are personal responsibility, resilience and achievement, but more importantly, the importance of administrators who we trust with our dreams to be more conscious. Conscious of the role they play in assisting athletes in fulfilling their dreams, lest they forget that they're in service to the athletes. A new decade is upon us and it is my hope that sport leaders can reflect, renew their perspectives and rethink approaches to sport as we collectively pursue excellence in the upcoming decade."
TTOC President, Brian Lewis, said this year is a crucial one for team TTO as they prepare for the Tokyo 2020 Olympic Games in July.
"The TTOC remains committed to supporting all Olympic athletes as they continue to represent Trinidad and Tobago and give their best for this country. Funding is always a challenge and so in 2015 the TTOC launched the Athlete and Preparation Fund to provide financial assistance to our nation's Olympic, Paralympic and Commonwealth Games athletes to enable them to train, recover and compete. The reality is, many of our athletes, even at the elite level, do not have the means to reach their full potential without support. It is our hope that the entire country will rally behind our athletes and give them the support they deserve."
Last July, Lewis visited Tokyo to attend the official signing ceremony for the Host Town Initiative, which will see team TTO benefit from a pre-games training camp at the Japan Athlete Training Center Osumi, in Osaki Town, Kagoshima Prefecture.
Written by Cherisse Moe for Team TTO