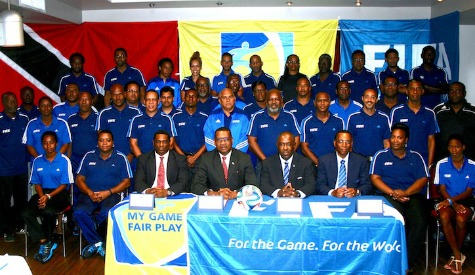 FIFA INSTRUCTOR Patrick Beckles was impressed with the FIFA Members Association Administrative and Management Course, which concluded on Friday at the VIP Lounge, Hasely Crawford Stadium, Mucurapo.
A total of 44 persons attended the four-day course, including club officials and match commissioners.

Beckles, a former general secretary of the Barbados Football Association, stated, "for me, the course was a pleasure. I think the wonderful thing about it was the tremendous amount of interaction and discussion between the participants. That, in itself, set the tone for the course."

Beckles continued, "and we had a wide cross-section of persons of both ages, interests and experiences. And the discussions formulated allowed us to be able to present some proposals to the Trinidad and Tobago Football Association (TTFA) executive for them to be able to consider.

"It was not just a course which was theoretical but some very practical solutions to some challenges, both for the TTFA at the level of the executive, but also the regional leagues, and some of the other interest groups - women's football, beach football, futsal.

"We were able to generate some proposals, which now the football family has to consider to work with, and to be able to see where we can take them," he added.

Asked about his role in the global game, Beckles responded, "I'm a consultant in football. I do consultancy for both FIFA and the Caribbean Football Union (CFU). I have been since 2009."

He continued, "I'm also a match official. I have worked extensively at World Cups. I have functioned as a security officer. One thing I would wish to say is that a lot of my training took place right here in Trinidad and Tobago. Therefore, this was an opportunity for me to give back.

"Yes, I have travelled extensively. I worked throughout the Caribbean (and the Americas), Asia, Europe, the Middle East. But they always say there is no place like home. For me, the Caribbean is home," he ended.