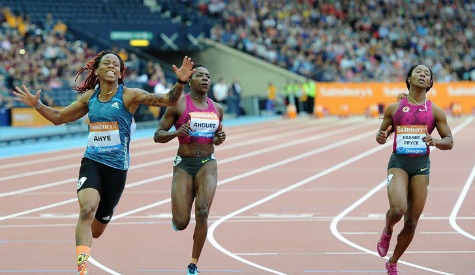 NATIONAL SPRINT queen, Michelle Lee Ahye, has been positively recovering from a recent hamstring injury which she sustained after capturing her first European sprint-double at the annual Spitzen Leichtathletik meet in Lucerne, Switzerland, on July 15.
Following her ailment, the 22-year old ace sprinter was forced to sit out her campaign at the XX Commonwealth Games in Glasgow, Scotland, where she was internationally favoured to produce another golden showing in both the 100-metre and 200m events. At the Swiss meet however, which was used as a prep ahead of the Commonwealth, Ahye pulled up on the line in severe pain after winning the 200m in a speedy 22.77 seconds.

In the process, Ahye equalled her personal best clocking she recorded at the National Championships in early July and also beat to the line two-time Olympic 200m champion Veronica Campbell-Brown (Jamaica), and Americans Tiffany Townsend and Kimberly Duncan.

"My recovery is coming along really good. I'm not back to a hundred percent as yet, but I'm close to it. I'm back at training to the max but still have a little more work to do. I just want to end my season on a good note and walk away healthy and with a new personal best time in both the 100m and 200m," she explained.

Three days before her sprint-double in Switzerland, Ahye also raced to victory in the British Athletics Grand Prix IAAF Diamond League women's 100m clocking 11.01. Here, she claimed the scalps of Jamaica's two-time Olympic 100m gold medallist Shelly-Ann Fraser-Pryce (silver 11.10 and 2011 World 100m champion, American Carmelita Jeter.

Upon the revelation of Ahye's inability to represent the red, white and black in Glasgow, several local and international athletic gurus questioned the large amount of meets she contested leading up to the Commonwealth Games. Some were of the idea that she may have been a bit too overworked. Speaking with the athlete from her Houston, Texas, base over the weekend, she revealed that it was the lengthy waiting period for the medal ceremony in Switzerland, which may have played a crucial role in her left hamstring injury.

"My injury was caused after the 100m in Lucerne. They (officials) had me waiting for the medal ceremony and I (my body) got cold and wasn't able to get worked on (by physiotherapist) before the 200m, so I went into that event cold. The speed I was going at in the 200m made my muscle tie up," she added.

Presently, the Tranquility Government Secondary is ranked second fastest (10.85) on the International Association of Athletics Federations (IAAF) senior outdoor women's 200m list and sixth fastest (7.10) on the indoor circuit.

Ahye, who competes locally for club Rebirth, heaped praises on her coach Eric Francis and agent Treshell Mayo, for her continued success. She acknowledged their significant input into her athletic training and development regime and for providing her with a professional and comprehensive outlook on sprint training.

When asked about her personal feeling after beating Fraser-Pryce and Campbell-Brown at both European meets, Ahye stated, "Me beating the reigning Olympic gold medallist, that is one feeling I'll never forget. I really can't explain it, but all I knew after everything settled after that race, I took some time to myself and started to cry and was thanking the Lord. My confidence and motivation went sky high after that day."

Ahye is presently with her coach in the US recuperating from her injury and preparing to conclude her 2014 competitive season. Her ultimate objective as a TT sprinter is to capture precious metal on the sporting world's biggest stage, the 2016 Olympic Games in Rio de Janeiro, Brazil.