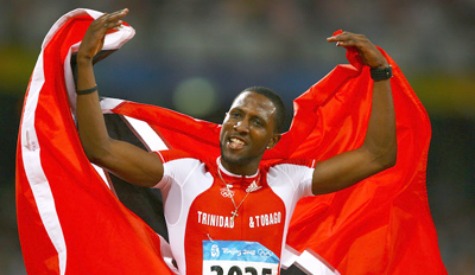 Richard 'Torpedo' Thompson celebrated Trinidad and Tobago's 52nd Independence Anniversary with victory at the ISTAF Berlin IAAF World Challenge meet, in Germany, yesterday. Thompson clocked 10.15 seconds to grab top spot in the men's 100 metres dash, the triple Olympic medallist forcing American Dentarius Locke to settle for silver in 10.16. Another T&T sprinter, Keston Bledman got to the line in 10.23 seconds to secure bronze.
For Thompson, the golden run was a return to winning ways. In May and June this year, the US-based athlete was unbeaten in 100m finals, his best run coming at the NGC/Sagicor National Open Championships, where he captured the century title with a 9.82 seconds scorcher – a new national record and the second fastest time in the world this year, behind American Justin Gatlin's 9.80.
Thompson was winless in July. That month's campaign included participation at the Commonwealth Games in Glasgow, Scotland. Though among the favourites for gold in Glasgow, the 29-year-old sprinter was eliminated in the semi-final round.
After a month away from competition, Thompson was back on the track last Thursday, at the Weltklasse IAAF Diamond League finals in Zurich, Switzerland. He finished seventh in the Weltklasse 100m event in 10.26 seconds. Three days later, Thompson regained his golden form with the T&T Independence Day victory in the German capital.
Commonwealth Games silver medallist Cleopatra Borel continued her fine run of form with bronze in the ISTAF Berlin women's shot put. The T&T field athlete threw the iron ball 18.53 metres. Germany's Christina Schwanitz won in front of her home crowd, the 2014 European champion landing the shot 19.53m. The runner-up spot went to Russia's Evgeniia Kolodko (19.43m).