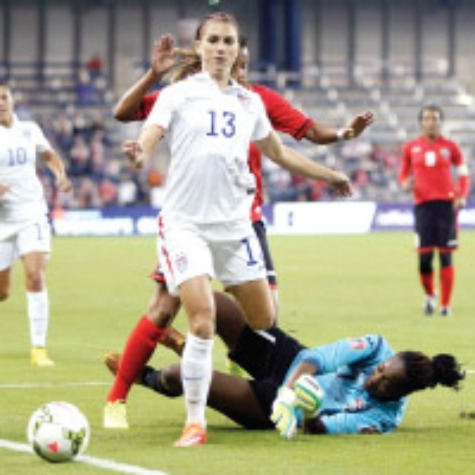 Trinidad and Tobago head coach Randy Waldrum expects this evening's FIFA Women's World Cup qualifying match against Haiti to be a gruelling encounter. But, he believes this country has what it takes to pull off the result which will keep them alive in their bid to qualify for the next year's World Cup, to be played in Canada.
T&T women play Haiti from 6 p.m. (T&T time) in Chicago, Illinois, in their second Group A match of the 2014 CONCACAF Women's Championship. Third behind Trinidad and Tobago at the Caribbean Championship, held in T&T just over a month ago, Haiti have everything to play for.
Unlikely to get anything out of their final match against the powerful US, and having already beaten the weakest team Guatemala (1-0)on Wednesday night, Haiti will only be in good position to advance out of the group with a positive result against T&T.
Waldrum was quite pleased after T&T's encouraging 1-0 opening match defeat on Wednesday night to the US, the world's powerhouse in women's football. "I'm very proud of my team.  I think they made all of Trinidad and Tobago proud tonight.  I know they made me very proud. I thought defensively we were very tight and organised, and we were able to create a few decent chances off the counter," Waldrum told TTFA media.
"The players executed the game plan very well. Kimika (Forbes, goalkeeper) was outstanding for us in goal, and Arin King was a rock in the back line.  Maylee (Attin-Johnson, skipper) and Brianna (Ryce) did massive work for us in midfield. And "Yaya" (Kennya Cordner, forward) was always dangerous off the counter. Overall, a very good performance," he added.
"She was big time tonight," Waldrum said of his goalkeeper (Kimika Forbes). "She was the player of the game for us. She kept it close and kept us in it. She's special. She was fantastic. Now we've got to regroup and focus on the next match (tonight) which is very important for us and which I expect to be a really
tough encounter as both teams want it badly."
Abby Wambach, women's world football's most prolific goalscorer and scorer of the winning goal for the Americans Wednesday night, said: "It was frustrating. We created a lot of chances but their goalie basically stood on her head this game until the end. We just couldn't break them down."
"Credit to Trinidad & Tobago," said American coach Jill Ellis. "We don't see teams that often sit as organised and put so many numbers behind the ball. I thought it was an excellent challenge for us. We created a lot of opportunities, but defensively gave up some big mistakes. We should have done a better job finishing."