Do you know what happened on January 23 in 1948?
On this day, our founder registered his shoe manufacturing company (RuDa) at the town hall in Herzogenaurach, Germany. We are using the momentum to look back on PUMA´s beginnings. For this, CATch Up talked with Mr. PUMA, Helmut Fischer, himself to find out all the details. Today,
 

PUMA is

 

one of the most recognised sportswear brands on the planet, no question about that. Find out how it all started with 15 employees. As a reminder, today we are more than 14.000 PUMAs and are looking forward to celebrating PUMA´s 75th birthday next year.
THE ROOTS OF PUMA: 1919 – 1948
A first step in a long history driven by speed and performance: The brothers Rudolf and Adolf Dassler founded the company "Gebrüder Dassler Schuhfabrik" (Dassler Brothers Shoe Factory) in their hometown Herzogenaurach, Germany. Unbeknownst to them, they placed the founding stone of the world´s capital of sports shoes.
Within the town, they're not the only shoe factory. More, smaller factories are scattered throughout the town, though many did not manage to survive past the 1950s and 60s. The brothers started their factory in their parents' home in 1919, moving into its proper facility in 1924.
Within the first few years, both gain notoriety. A majority of German athletes wear Dassler spikes at the Olympic Summer Games in Amsterdam, 1928. In 1936, Jesse Owens wins four gold medals at the Olympic Games in Berlin, all while sporting Dassler spikes. More medals soon followed: seven gold and five bronze medals, all for world class athletes wearing Dassler shoes. The first records are smashed as well: two World and five Olympic records. It's their international breakthrough.
"Herzogenaurach has been a shoe makers town since the middle ages. And over the years it has developed into the world's sport shoe capital." –
Helmut Fischer (Mr. PUMA)
1948
28 years after founding their company, the Dassler brothers fell out and went separate ways. Rudolf Dassler moved into another building, which belonged to the family. Together with 15 employees, he transformed this storage facility into a factory and founded his own company:
The "Schuhfabrik Rudolf Dassler (RUDA)" was registered as a business in January 1948, commencing operations a few months later on June 1, 1948. It took another four months until the PUMA brand was born: on October 1, 1948 "PUMA" was registered at the German Patent and Trademark Office. In December 1948, in a letter to partners and customers, Rudolf Dassler announced his decision to name the company "PUMA Schuhfabrik Rudolf Dassler".
CHECK OUT HOW THE BRAND AND THE LOGO EVOLVED OVER THE YEARS
WITH MORE THAN 70 YEARS OF SPORTS HERITAGE PUMA HAS SEEN TONS OF INNOVATIONS. TO HIGHLIGHT THIS, TAKE A LOOK AT OUR FIRST FOOTBALL BOOT WITH SCREW-IN STUDS AND OUR LATEST MODEL.
1952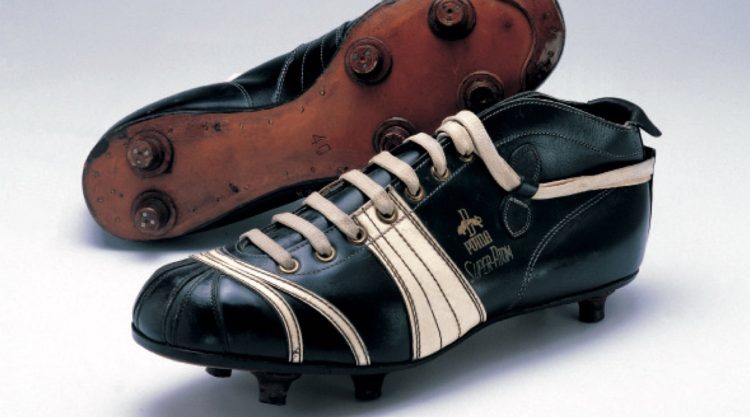 Innovating Football
The launch of PUMA's SUPER ATOM in 1952 creates a stir. Rudolf Dassler collaborates with experts, such as West Germany's national coach Sepp Herberger to develop the world's first boot with screw-in studs. For PUMA, beside a successful product launch, it marks the beginning of our football heritage.
2022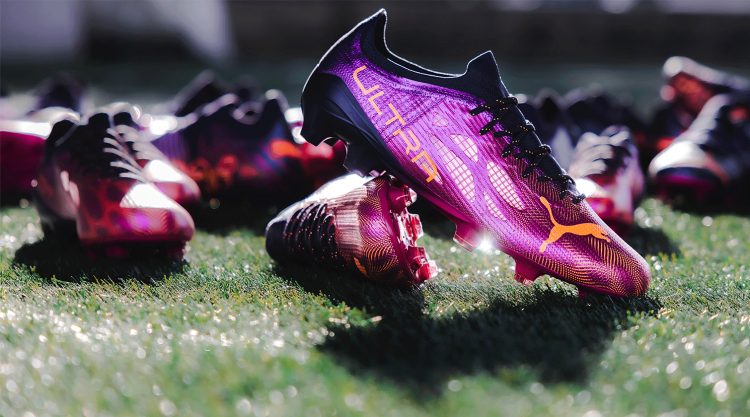 Kicking off 2022 with a bang
PUMA´s newest ULTRA football boots feature a unique PEBA SpeedUnit outsole for maximum take-off speed, traction and responsiveness at high velocity giving you the perfect platform to produce faster movements all over the pitch. Infused with PUMA running spike DNA the ULTRA is deadlier than ever to be worn by Antoine Griezmann, Kingsley Coman, Ludmila da Silva and Christian Pulisic.