If Trinidad and Tobago is to grow a sustainable and successfully sports industry, then athletes and sports administrators must begin thinkingn about the value of their brand and how that translates into a business product.
This was the feedback from several speakers who partcipated on the four panels of the 3rd edition of the annual Sport IndustryTT Conference of the Trinidad and Tobago Olympic Committee (TTOC). The theme of this year's conference was: Youth, Young People and Women: Raising Awareness and Encouraging Entrepreneurship. The conference took place at the Hyatt Recency, Port-of-Spain.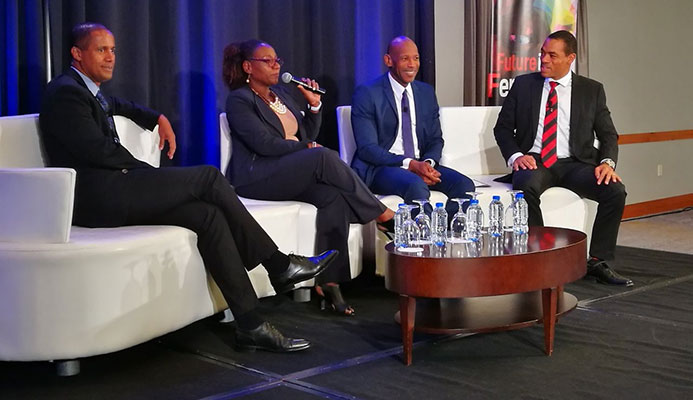 The TTOC brought together a diverse group of speakers from various sectors including Banking and Finance, Sports, Law, Entertainment and Media and the four topics covered were:
Creating an entrepreneurial eco-system in Trinidad and Tobago: Looking for market gaps; identifying and analysing domestic and international opportunities'.
Political and legal environment that fosters entrepreneurs and entrepreneurship
How do potential lenders and investors evaluate the business plan: funding and investing in entrepreneurship
Creating human connections that build brands and drive growth
Several speakers stressed the importance of athletes pursuing their passion and to staying focussed on building their brand so they could be assured of a career even after they stopped playing sports.
Entrepreneurs Jules Sobion, Kathryn Nurse, Kerdyn Moe and Nadine Liverpool spoke of their own experiences in building their respective businesses; of the challenges and failures and of their successes. They stressed the importance of being focussed on their goal, of building strong networks with people of varying skills, of developing a business mindset and learning from mistakes.
"You are going to fail, at some point. But you must not lose faith. Stay focussed on your goal and make sure that you learn from the mistakes," said Nadine Liverpool.
The critical need to understand the legal, financial and political environments that entrepreneurs in sports must navigate was underscored by the speakers across two panels. Attorney Carla Parris spoke about the value of one's brand and the importance of trademarks in professional sports as a way of protecting the athlete from abuse of their image and name.
Bankers Nigel Baptiste, Darryl White (managing difector of RBC Royal Bank) and Jason Julien (deputy CEO of First Citizens Group) stressed the importance of thorough preparation before approaching a financial institution for sponsorship or financing. The business plan, they said, was critical and required clarity, specificity, giving the prospective financier a clear picture of the business strategy and prospects for growth and profitability.
"You've got to remember you are competing with many other institutions in sport and other sectors that are requesting similar support, that's if you're coming for sponsorship. If you are coming to a financial institution for lending, you have to satisfy certain requirements," explained Baptiste.
"People think banks are risk averse. It is not that; banks exist to lend money. But we have to be responsible because we have our depositors and our shareholders to consider. We have to ensure when someone comes to us to borrow that they have a model that is sustainable and that they can pay their loan," he said.
Both White and Julien commended the TTOC for hosting the conference and for bringing together experts from differents fields to speak to the sports community.
 "The stakeholders have to be involved. What is nice about this Conference in particular is that it has brought together so many stakeholders. I have heard voices from many different elements of the industry. Hopefully there will be a good road map going forward that would benefit the ecosystem that is being built," White said.
Julien added: "The TTOC has done a tremendous job at bringing together an amazing agenda and collection of speakers to focus on the key issues. Especially given what today is – International Women's Day – I think it is useful to have a lot of the agenda focusing on not just the tried and true topics, but rather drilling down into specific issues that athletes, organizations and person may face."