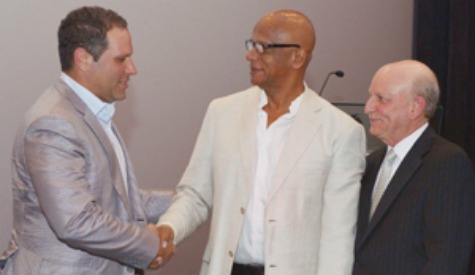 JOSEPH RAHAEL, developer of SouthPark near Tarouba Link Road in San Fernando, is calling for the completion of the Brian Lara Cricket Academy and the San Fernando waterfront project. Rahael said the completion of those two mega projects will add to the development of the southern city.

Rahael was speaking during the opening of the SouthPark Cinemas 10 on Tuesday. SouthPark Cinemas 10 is owned by Caribbean Cinemas and is the second phase of the SouthPark development, Rahael said. Also attending the opening was San Fernando's Deputy Mayor Junia Regrello.

Rahael said: "We are proud to be a part of all the new and exciting projects in San Fernando, The University of the West Indies (UWI) South Campus, the San Fernando Teaching Hospital, the Southern Academy for the Performing Arts, to name a few. Mr Mayor, we would like to see the real development of the San Fernando Waterfront and the Brian Lara Cricket Academy."

He said phase one of the SouthPark development was already completed with the new Toyota headquarters. Phase three was under construction and will include retail shopping and services, fine and casual dining and other forms of entertainment. Some of the tenants will include TGI Fridays, Subway, Yogurt Land, Hallmark Cards, RIK Services Ltd, Bhagan's Drugs and Woodford Cafe.

Republic Bank will also be constructing another regional headquarters, he said. Rahael said: "The final phase of this development will include a 125-room brand name hotel and more shopping and entertainment options. SouthPark is really a lifestyle centre, a regional destination of shopping, fine dining and entertainment located right here in San Fernando."

Consultations relating to the Waterfront project continue to take place with the latest being held last week. Planning Minister Dr Bhoe Tewarie said if it were to become a reality, 174 families will have to be relocated. In May, Housing Minister Dr Roodal Moonilal said no work will be done on the Brian Lara Stadium until the national budget is delivered. He said at least $190 million was needed for its completion. The budget is expected to be read in Parliament on September 8.