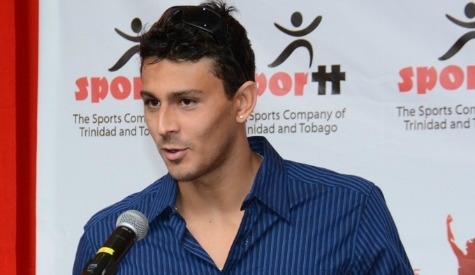 World junior silver medallist Dylan Carter will be the flag bearer for the Trinidad and Tobago contingent at the 2014 Nanjing Youth Olympic Games Opening Ceremony.
Some 4000 athletes from 204 countries from around the world have converged in  the southern  Chinese city for the second edition of the 15-day quadrennial Games,  whose inaugural event was in Singapore in 2010.
Carter will represent the red,  white and black in the parade of teams and national sporting organisations (NSOs) at the Nanjing National Sports Center Stadium in front of an expected capacity crowd in the 60,000-seater venue.
Carter,  this country's top junior swimmer who competed in his first senior open meet for T&T at the recently concluded Glasgow Commonwealth Games, is spearheading  the 11-member T&T YOG team that also includes fellow swimmers David Mc Leod and Johnnya Ferdinand; track and field athletes Jeminise Parris, Kashief King,  Aduwelle Wright,  Akani Hislop and Chelsea James; beach volleyballers Chelsi Ward and Malika Davidson; and sailor Abigail Affoon.
On the eve of the opening ceremony,  all athletes will mingle and mix in the YOG "Let's Get Together Festival" at the Youth Olympic Village square,  a welcome session for the athletes,  put on by the YOG Cultural and Education Programme (CEP) where the Young Ambassador Jeannette Small will be performing.
Interested persons can follow the progress of the T&T team at the Trinidad and Tobago Olympic Committee social media websites, twitter  www.ttoc.org and the Games' website www.nanjing2014.org/en
The action at the Games gets underway Sunday with Mc Leod in the Men's 100m backstroke preliminaries and opening round beach volleyball encounters for Ward and Davidson.